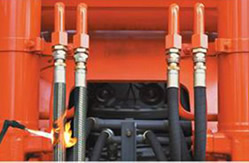 Structure: High Temperature High Pressure Hose for the winding wire matrix,skin coated nano-refractory coating layer,stainless steel wire woven layer and layer fire-retardant composition.
Feature: High pressure,refractory and insulation,pipe corrosion appearance,anti-static and high abrasion resistance,light weight,resistance to high temperature,bending under low temperature performance and long service life.
Application:Oilfield well control operations,metal smelting and chemical industries such as a heat source or heat radiation of high temperature environments.
Temperature range: -30℃ to +100℃
DN
Hose ID
Hose O.D
Max. Working Pressure
Min. Burst Pressure
Min. Bend Radius
Fire resistant Temperature
inch
mm
mm
Mpa
Psi
Mpa
Psi
mm
℃
13
1/2"
12.7
57.8±3.6
43.0
6235
86
12470
215
800
16
5/8"
15.9
61±3.6
38
5510
76
11020
245
800
19
3/4"
19.1
66.5±3.6
34.5
5003
69
10005
300
800
25
1"
25.4
74.5±4.3
27.5
3988
55
7975
370
800
32
1 1/4"
31.8
80.8±5.2
20.5
2973
41
5945
470
800
38
1 1/2"
38.1
87.2±5.1
17
2465
34
4930
570
800
51
2"
50.8
100.7±5.1
17
2465
34
4930
720
800